SUBSCRIBE TO FORMED for FREE: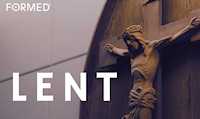 FORMED LENTEN RESOURCES:
There are a number of items in Formed that you may want to take advantage of during Lent.
Sign up for Dr. Tim Gray's Daily Reflections
Each Daily Reflection is a short video that features Dr. Tim Gray commenting on the daily Mass readings, explaining the Scriptures, and providing you with concrete ideas on how to apply them to your life.
Into His Likeness - Edward Sri
Into His Likeness is a six-part video series by Dr. Edward Sri, a renowned Catholic teacher, author, and speaker. This series is about how to grow as a disciple and truly grow into the likeness of Jesus Christ.
FORMED PICK OF THE WEEK:
FORMED LEADERS: