This content is from another website - Click
here
to view on original site.
The World Day for Grandparents and the Elderly will be celebrated on Sunday July 23, close to the Feast of Sts. Joachim and Anne, the grandparents of Jesus.
Pope Francis "renews his invitation to everyone – dioceses, parishes, associations and communities – to celebrate this Day and to make it the occasion of a joyful and renewed encounter between young and old. To you, the young who are preparing to meet in Lisbon or to celebrate World Youth Day in your own countries, I would ask: before you set out on your journey, visit your grandparents or an elderly person who lives alone! Their prayers will protect you and you will carry in your heart the blessing of that encounter. I ask you, the elderly among us, to accompany by your prayers the young people about to celebrate World Youth Day."

In anticipation of these two celebrations, Michelle Pacheco, Mission Development Coordinator for OCY Missionaries at the Office of Catholic Youth – journeying to World Youth Day in Lisbon – reflects on the significance.
1. Why do you think that the World Day for Grandparents and the Elderly is important for young people?

As young adults, the people we usually spend time with might not be our grandparents or the elderly. This day is an important reminder that we are meant to be there for each other, young people for the elderly and vice-versa. There have been many beautiful moments when I visit my avó, my grandmother, as we have dinner, and she shares stories about her family and life in Portugal. As a missionary, I have had the opportunity to meet new people as I fundraise, and I am inspired by elderly people I have met. It is such a gift to hear that they are praying for me, to learn from their experiences, and be encouraged by their testimonies of the Lord working in their life!
2. What is your reaction to the Holy Father's message and connection of these two occasions?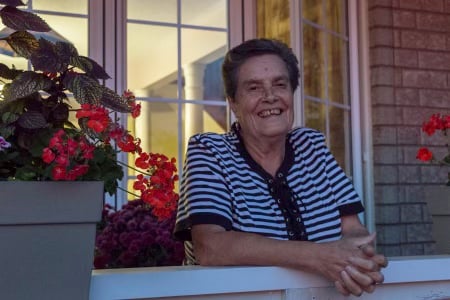 It is beautiful that both themes come together in the image of the Visitation. I appreciate the Holy Father's reminder that the young and elderly, with their unique gifts, perspectives, and experiences, must look to the future (page 5 of the Holy Father's message). Like Mary and Elizabeth, God invites us to be a part of "the future he is opening up before us." I think the Holy Father's message echoes that invitation and encourages us to give our 'yes' to God.

3. How have your grandparents and elders been witnesses to the faith?

I think the most influential witness has been seeing my avó's devotion to Mary. All my life, I have seen her pray the rosary for our family, those in need, and countless other intentions. I'm confident that her prayers and seeking Mary's intercession has brought many graces, one of which, I believe, is my own adult conversion and deepening relationship with God.

4. How will you be celebrating World Day for Grandparents and the Elderly this year?

I will actually be in Portugal that day! I will be celebrating the day by visiting the Shrine of Our Lady of Fatima and then beginning a four-day walking pilgrimage. The chance to be in Fatima and on pilgrimage around this day is a personal example how God's "mercy is from age to age". I am grateful for my grandparents who have passed down the faith and the elderly who never cease to pray for younger generations. Throughout this time, my grandparents, those living and those who have already passed away, will certainly be in my prayers.